Tenders and non-tender purchases of RFID / BLE systems often ignore tagging in the initial RFP, leading to a Capital Expenditure budget designed for hardware / software purchase, with implementation as an add-on. There's a detrimental effect which subdues ROI and adversely contributes to project slippage or worse, potential failure.
System Sold! What happens next?
If you're a system supplier you know the answer. There's a discussion on the tagging element of the implementation, the client is given responsibility as there's no budget allocated and you don't offer that service anyway.
The risks in this model are clear. A cobbled together tagging option, with no funding, under-motivated staff with their normal duties being pushed aside or agency staff (which just means expenditure but from a different budget). In no other field (that I can think of) would a vitally important element of a project be treated like a minor add-on.
The Capital Expenditure Budget is Limited, Reducing Hardware Cost isn't an Option
Agreed! That shouldn't be the focus, but it remains that if the Capital budget doesn't include implementation then either; an alternative budget is required, or the Capital expenditure budget needs increasing. The only other alternative is for the project not to be implemented at all.
Lets assume that the budget isn't there, as is often the case, and what options are taken to manage the tagging of assets.
First choice is often agency / temporary staff. But that's still expenditure, and worse than that it's speculative expenditure.  There's nothing guaranteed when you implement with a team you don't know, one un-invested in the end result and with no experience of the work to be undertaken. Tagging may look like labour, it's not! It should be classed as Cognitive Labour, repetitive yes, laborious yes, but there is a requirement for thought, stringent quality management and overall focus on the task in hand.
A better option with the same budget
If the budget has been made available for agency staff then why not re-purpose that budget to employ skilled, experienced and committed staff from a commercial tagging company. That way your client is utilising their manpower budget in the most effective way they can, a way that will ensure your implementation gains traction early thereby achieving an expedited ROI.
The no budget required, internal staff option
There's a cost, actually a number of costs to this choice.
All staff have an inherent cost to them, they have duties, skills and a workload. Diverting those skills to a different task, one which takes knowledge, experience and focus to achieve is often a recipe for disaster.
The tagging element of RFID / BLE implementation is the most time consuming, repetitive, on occasion mind numbing part of the whole process. It also needs to be perfectly performed, the results are absolutely critical to the success of the system.
Where are we now?
Now we have an option, there's a commercial tagging company who can ensure your tagging project is implemented quickly, on-time and to the highest quality. Awesome, right? Well not if there's no budget to employ that company, and there often isn't.
The proposal process needs to be reviewed, the Capital Expenditure budget needs to include implementation costs.
We understand the challenges here, there's a limited amount of capital, as the system supplier you can't dilute the system sale to reduce costs in order to facilitate a tagging service. The implementation element needs to be there from the start, the clients budget needs to be built around a complete installation of a working system, not a software / hardware solution relying on an implementation miracle to come along and save the day.
Getting ahead of issues to protect your business
You may like to read our 'increasing ROI for RFID' article, it highlights why a faster implementation with quality guarantees increases the ROI achieved, and gets there quicker, than a self-tagging solution.
What everyone wants to achieve is a system up and running as soon as possible. Also, as importantly that system needs to run optimally from the start. Both these desired outcomes are far more likely to be achieved if the tagging implementation is completed by a team of experts who are invested in the end result.
That's how you protect your business and make your system sales more effective and producing a better response from your clients. By ensuring the system isn't held back by a service you don't offer and the client doesn't want to be responsible for.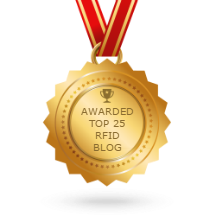 The Tagging Team RFID Blog is featured in the Top 25 RFID Blogs